The AMH Rabbi Erica and Mark Gerson L'Chaim Prize Initiative for Outstanding Christian Medical Missionary Service.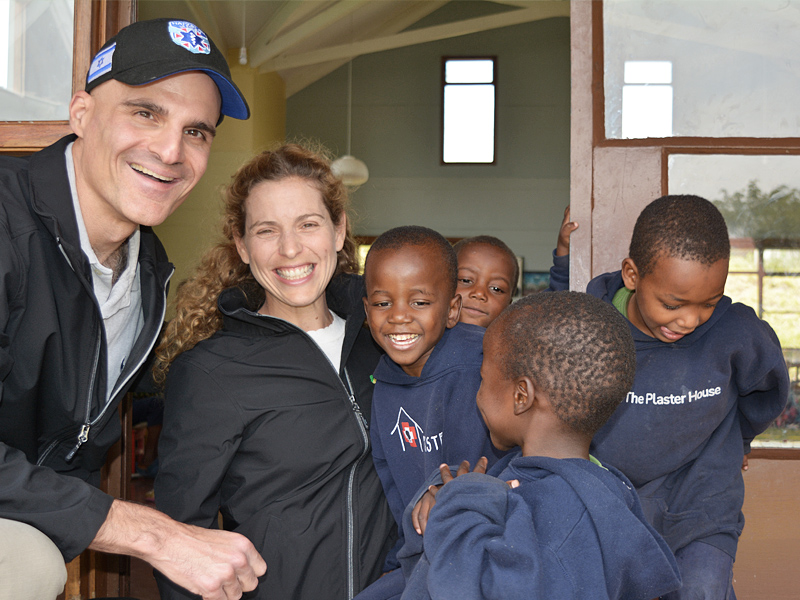 Thanks to the generous support of our Co-Founders, Rabbi Erica and Mark Gerson, AMH has established the Gerson-L'Chaim ("To Life") Initiative. This initiative was launched in 2016 with our initial Rabbi Erica and Mark Gerson L'Chaim Prize for Outstanding Christian Medical Missionary Service. The annual L'Chaim Prize of $500,000 is the world's largest annual award dedicated to direct patient care; the recipient is selected by a panel of leaders in African clinical medicine. The Initiative includes the L'Chaim Prize, an annual $500,000 award given to the winner's institution to support transformational medical projects. AMH's Mission Hospital Teaching Network is also a component of the L'Chaim Initiative. The MHTN brings together like-minded institutions committed to significantly expanding their training capacity. AMH's MHTN includes signature 10-year, $2.5 million grants to hospitals in Kibuye and Malawi to enhance sustainability and expand medical educational programs.
The L'Chaim Prize not only provides important resources for the selected Christian missionary and the hospital he or she serves but also creates a pipeline of future high-impact investments. For example, nearly all of the grants made as a result of our recent AMH-Christian Broadcasting Network (CBN) Matching Campaign were previous finalists for the L'Chaim Prize.
The L'Chaim Prize is the first facet of our vision for the Gerson-L'Chaim Initiative. In the future we will add other strategic investments such as the development of a Mission Hospital Teaching Network; projects focused on critically needed housing; and the expansion of our management advisory program—all focused on improving the sustained impact of the mission hospital sector.
Since the inception of the L'Chaim Prize, AMH and the Gersons have recognized three outstanding Christian medical missionaries and their hospitals.
2020 Dr. Priscilla

Busingye
Serving at Rwiibaale

Health Center, Uganda
"Dr. Busingye's life and work are utterly amazing. She epitomizes everything that a compassionate, community-minded person could aspire to, regardless of their faith tradition. She 'loves the stranger' every day in a genuine and tangible manner. It is a joy for my wife, Erica, and me, as Jews, to celebrate the work of this wonderful Christian physician." – AMH Co-Founder and Prize sponsor Mark Gerson and, his wife, Rabbi Erica Gerson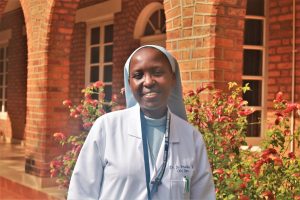 In recognition of her deep commitment to mothers and children in Uganda, Dr. Sister Priscilla Busingye is the first woman and African to receive the Gerson L'Chaim Prize. Sister Busingye is an OB-GYN and member of the Banyatereza Sisters of Uganda.
Dr. Priscilla was born and raised in an impoverished Ugandan village with no attending nurse or doctor, no medical equipment, and no electricity. The training and support she later received from the Banyatereza Sisters inspired her to devote her life to serving the poor. Sister Priscilla is now one of only a handful of such specialists in all of Uganda, and a rare resource for the rural communities she serves. Her motivation comes from the joy of preventing maternal deaths and birth injuries through the excellent care she and her team provide. She is also an accomplished fistula (birth injury) surgeon, serves as the head of the Association of Obstetricians and Gynecologists of Uganda and was given an award by her country's First Lady for her contributions to safe motherhood.
The L'Chaim Prize will help fulfill Sister Priscilla's dream of saving lives in rural Uganda. The proceeds will be used to expand St. Therese of Lisieux (Rwibaale) Health Center, providing critically needed infrastructure, training, and medical supplies. Mothers in the area will gain access to excellent maternal health services, including surgery for birth injuries. This expansion will also create more than 50 jobs in the local community.
The planned project—much of which will be funded by the $500,000 L'Chaim Prize—includes constructing a larger maternity center and a new pediatric ward, adding housing, upgrading utilities, training health workers — including an ob-gyn, and sponsoring fistula repair camps. The project will also include mentoring health workers to help them adopt proven best practices.
The Rwibaale Health Center will become an active training center for rotating health workers, including becoming a rural rotation site for ob-gyn residents from Kampala.  Dr. Busingye will also travel from her home in Rwibaale to partner facilities to conduct additional clinical training.  In total, one hundred and twenty health workers will receive mentorship at Rwibaale or at their home institutions annually. And once expansions are completed, Rwibaale health center will deliver more than 1,000 children per year. 
Sister Priscilla's commitment to training and mentoring through this expanded facility will empower her to have a broader impact on the next generation of health providers and serve as a model for all of Uganda.  AMH is proud to partner with Dr. Sister Priscilla Busingye and the Banyatereza Sisters as they continue their faithful service.
"Ensuring access to quality obstetric care is the primary way to improve the lives of mothers and their children. Building a model center in the village of Rwibaale will enable training and mentoring of other health providers to learn what is possible when care is provided the right way." – Dr. Sister Priscilla Busingye
Dr. Busingye and the entire congregation of Banyatereza Sisters have been some of AMH's most impactful partners as they combine their self-sacrificing service for the poor with sharp intellect and visionary leadership. Even with only scarce resources they have made a lasting impact on the lives of many people in rural Uganda and beyond. In fact, they are currently partnering with AMH to send a team in support of the work of last year's L'Chaim Prize winner, Dr. Tom Catena, in the Nuba Mountains of Sudan.
2019 Dr. Tom Catena
Serving at Gidel Mother of Mercy Hospital, Nuba Mountains, Sudan

In recognition of his long-standing commitment to the people of Nuba, his decision to stay despite great danger to himself from civil war, the transformational impact of Gidel Mother of Mercy Hospital, and the absolute necessity of supporting the only surgeon for 1.3 million people, AMH has awarded Dr. Catena the 2019 Gerson L'Chaim Prize.
"I think people may look at Africa and say, 'What you're doing is just a drop in the ocean'… But when you're there, you don't see a drop in the ocean. You see a person. You see a life."
—Tom Catena
The AMH Gerson L'Chaim Prize was the first step in a larger effort to support Tom's work for the long-haul and provide lasting help for the people of Nuba. Thanks to our generous donors and the $500,000 L'Chaim Prize, more than $2 million has already been raised toward a $7.5 million goal to:
Support Dr. Tom's vision to

create a training school

to educate nurses, midwives, and physician assistants for

Gidel

Hospital and the entire region.

Strengthen

Gidel

Hospital to

enable hands-on clinical

training of

the next generation

of healthcare workers

as

they help to

provide maternal care, handle trauma wounds, and treat malaria. 

Secur

e

the funding needed to

keep

Gidel

Hospital operational

and provide medicines, supplies, and hospital staff for decades to come. 

Expand

assistance to village clinics

to bring primary health care closer to the people and empower the

Nuba

healthcare system.
Tom Catena grew up in Amsterdam, New York, in a large, devoted Catholic family. He played football at Brown University and attended Duke Medical School. After completing his residency in Indiana and serving as a Navy doctor for five years, he went straight to the mission field in Kenya, where he honed his surgical skills. In 2008, he moved to Sudan to serve the people of the Nuba Mountains. 
He left behind family, friends, and the outside world to serve in one of the most remote war-torn areas on earth.
When the fighting started in 2011, almost all the expatriate workers evacuated, but Dr. Tom remained. He insisted on staying. He said that leaving would be the same as saying his life is more important than those in Nuba, which he did not accept. As Tom says,
"The source of most of our conflicts is the idea that one person's life is more valuable than someone else's. We have forgotten that we are all children of God and therefore somewhat related."
In 2014, the hospital was targeted. Bombs fell right next to his home. But still, he chose to stay.  
He continues to stay and serve to this day. Now his wife, Nasima, a native of the Nuba Mountains and a nurse at Gidel Hospital, serves with him. Last year, they adopted their son Francis and welcomed him home to Nuba.
2018 Dr. Rick Sacra
SIM Missionary serving at ELWA Hospital, Liberia.
In 2014, at the height of the Ebola epidemic, Dr. Rick Sacra, serving with the mission SIM, voluntarily cut short his leave in Massachusetts to assist his colleagues at ELWA Hospital in the capital city of Monrovia, Liberia.
As others cared for victims in the Ebola Treatment Unit, Dr. Sacra helped to keep the rest of the hospital open for other forms of care. While delivering a baby to a sick mother, Dr. Sacra contracted Ebola. Evacuated to a special facility in Nebraska, thankfully he survived and then shortly thereafter decided to return to Liberia to help the country rebuild.
Dr. Sacra has served in Liberia for over 20 years. When civil war drove many Liberian refugees into the neighboring Ivory Coast, Dr. Sacra, his wife Debbie, and their children moved to a remote region to serve the refugees. The Sacras then returned to Liberia when the war ended.
Explaining his motivation for returning to Liberia, Dr. Sacra told Time Magazine, "God led me to become a medical missionary many years ago. The passion that motivated me then is still the one that motivates me now: 'Love your neighbor as yourself.' To see people's lives enriched through better health and the experience of God's love is still what drives me."
The $500,000 Gerson L'Chaim Prize award will be used to develop health workers and improve hospital infrastructure at ELWA Hospital:
Train Liberian family medicine residents. Liberia has only one doctor for every 15,000 people, and most of those lack advanced training.
Install solar power capacity. The nation's power grid is not reliable, causing the hospital to use precious resources on fuel for its back-up generator.
Establish advanced care units with trained staff. At present, there are very few places in Liberia to send expectant mothers with very high blood pressure, trauma patients, sick newborns or other patients who need more advanced care.
---
An ELWA Impact Story – Serafina
She Survived a Fire. Now, She's Being Given a Second Chance at Life.
Her eyes are so big. It isn't so much their size on her tiny face as the way they seem to swallow you up, and the whole room too, when she turns them on you. A whole world's suffering could fit in those eyes.
Her head is wound securely in a gauze bandage — under her chin, over her ears, around her skull. Only her face shows —her burnt, healing, pink lips and those eyes. When I first met her, her tiny legs dangled off the edge of the bed, a good foot above the floor, stripped of their skin in square patches of pink across her upper thighs, where the doctors took it to graft onto her scalp. Her name is Serafina and she is barely three years old.
Tariza, her mother, is only 26 years old herself and has two more little boys at home a few hours away. She sits on the bed beside Serafina, describing the day when she was out of the house on an errand and Serafina, feeling chilly, went to sit near the fire and fell in.
Serafina came to ELWA Hospital after traveling for several hours, her little face and head covered in third-degree burns, with complete loss of her skin down to the bone. Doctors had to remove the top layer of the bone in her head, to support a skin graft. The images from the operating room that day are searing: a huddle of white coats clustering around the tiny little form on the white bed, her entire skull gleaming red. Overall, Serafina has had 11 trips to the operating room for procedures including the debridement of her burns, grafting of her scalp and shoulder on three different occasions, and changing her dressings under anesthesia on another half dozen occasions.
Moving forward, the doctors say the skin will continue to mature and the bone will eventually be normal, but that will be over the next year or so. While the remaining journey for Serafina is still quite long, thanks to ELWA she has the second chance that many in Liberia only hope for.
Serafina's photo and story are included with the permission of her mother, Tariza.
---
2017 Dr. Russ White
WGM Missionary serving at Tenwek Hospital, Kenya.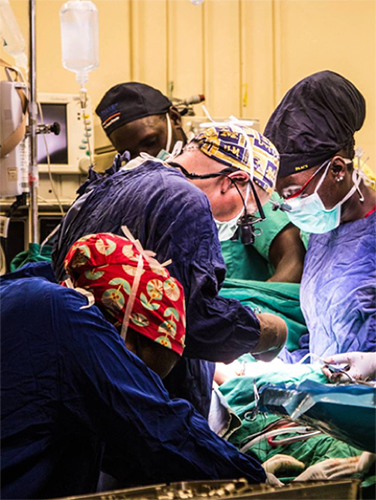 The 2017 Gerson L'Chaim Prize supported Dr. White's dream of eliminating unnecessary deaths from rheumatic heart disease. Dr. White's solution includes community engagement; a surgical fellowship to train a significant number of new cardiac surgeons across Sub-Saharan Africa; and building a state-of-the-art Cardiothoracic Institute at Tenwek Hospital.
The Prize also served as a catalyst for other investments. During last year's L'Chaim Prize dinner, Samaritan's Purse committed to raise $4 million for the cardiothoracic center. Additionally, $300,000 from 2018's matching gift campaign conducted with our partner CBN and a total of $200,000 from two other generous ministries, Lakewood X ($100K) and Joyce Meyer Ministries X ($100k), have been committed to Dr. White's vision.
Since the prize was awarded, the first heart surgery fellow has begun training, AMH has procured medical equipment, and ground-breaking for the new facility is planned for April 2019.
2016 Dr. Jason Fader
SERGE Missionary serving at Kibuye Hope Hospital, Burundi.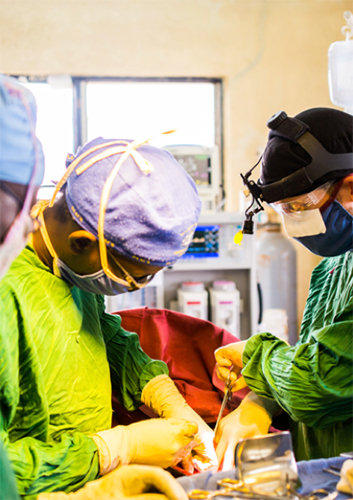 Dr. Fader—a son of a medical missionary, serving on a team with American physicians in Burundi, the poorest country in the world—was able to bolster his work with $500,000 from the first-ever Gerson L'Chaim Prize.
"To move forward, to provide higher volume and better quality care, and to train more national healthcare workers, we have to expand the hospital," said Dr. Fader, who intends to serve in Burundi "for many years to come."
Funds from the Prize completed a 48-bed surgical ward so patients can sleep one-to-a-bed. Hundreds of patients have benefited from improved fracture care; and the balance of funds will provide additional housing and support medical internship training. Additionally, $310,000 from 2018's matching gift campaign conducted with our partner CBN has been used to install solar power at the hospital, providing much more stable and affordable electricity.