By Scott Marcello, President, African Mission Healthcare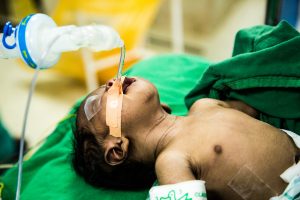 Imagine your daughter sick with pneumonia or your father infected with COVID-19, fighting to breathe and you have no way to help them. 
Jacqueline is a 49-year-old Kenyan woman who fell gravely ill due to COVID and was admitted into the intensive-care unit of Kijabe Hospital. Her children lost their jobs because of the pandemic and her grandchild requires specialized medical care. Jacqueline is the sole source of financial support for her extended family. Her health means the well being of her entire family is at stake. Fortunately, thanks to a functioning ICU and high-flow adequate oxygen supply, Jacqueline recovered and was restored to her family.  Without these systems, she wouldn't have survived.
In May, as COVID-19 was spreading around the world, AMH Chief Executive Dr. Jon Fielder wrote asking that governments and well-meaning donors not send ventilators to sub-Saharan Africa. In his blog, Dr. Fielder made the compelling case that, "[I]t takes a system to ventilate patients and care for the critically ill. And those systems are too few and far between here."
So, what can we do now? The answer may be difficult for some to accept. In short, whatever we do today will not be enough with respect to the COVID pandemic. Trees planted decades ago are what provide us with shade now and we've planted far too few "trees" in the case of medical infrastructure in Africa. But there are bright spots. Jon gave a wonderful example of Kijabe Hospital: nearly two decades of efforts and investments created the system that saved Jacquelines' life today.
Oxygen reduces the risk of death by 35% for children with pneumonia, yet amazingly it is one of the least available "essential medicines" identified by the World Health Organization. It's critical for basic surgeries, the treatment of many serious illnesses like pneumonia, and now for the care of people suffering from COVID. In sub-Saharan Africa the supply of this essential medicine is grossly inadequate. Less than half of all African hospitals have any oxygen; if we include smaller health facilities, that number is closer to 20%. As noted by researchers writing in The Lancet:
"Oxygen is central to the management of patients admitted to hospitals with severe COVID-19.1 Furthermore, the availability of oxygen therapy is just as important for the management of other patients who are acutely ill. However, despite recognition from most health-care providers that oxygen is a fundamental component of a health-care system, it has not been a focus of health-care delivery in sub-Saharan African countries…"
While only a small fraction of the oxygen needed to fight COVID can be available in the coming months, Dr. Fielder observes that, "It is likely that COVID will be around for a prolonged period, threatening vulnerable patients."
Because of COVID, the critical lack of oxygen in Africa has attracted increased attention. In response, oxygen supplied by cylinders has been a primary focus. But as noted in a recent article in the Guardian, these cylinders are often in short supply and very expensive. Additionally, their effect is limited when caring for COVID patients and others needing high-flow oxygen therapy. A very large cylinder running at 10 liters per minute will only last for 15 hours.
For many of AMH's mission hospital partners, the addition or expansion of an oxygen plant is the best, context-appropriate answer. These systems provide for the production and distribution of ample oxygen supplies throughout the hospital, enabling care for seriously ill patients suffering with COVID, pneumonia, and other diseases. The oxygen plant can also be equipped to fill cylinders from excess capacity and share oxygen across communities. While clearly cost-effective – oxygen plants can enable life-saving care for less than $6 per patient – these projects are well beyond a hospital's means, costing between $150-275K to build. The projects are also complex, requiring specialized skills, planning, and support. 
In order to save as many lives as possible, our hospital partners need our help now. And we need your help. 
We recently launched our "O2 Africa" campaign. AMH, through the generosity of Co-founder Mark Gerson and his wife Rabbi Erica Gerson, has already begun investing $360,000 to increase critically-needed oxygen at selected hospitals. We are also appealing for generous donors like you to join them. Our goal is to raise $1 million to support the construction and completion of oxygen plants at four of our mission hospital partners. We estimate these hospitals will provide direct care for 320,000 additional patients and supply oxygen to other facilities so they, in turn, help many more.
Dr. Marty Makary, Professor of Surgery and Director of the Johns Hopkins Pancreatic Islet Transplant Center and NYT best-selling author recently shared, "Oxygen…is, by far, the most important single resource a hospital can offer its patients — and the single most needed life-saving therapy for hospitals." He also commended AMH's oxygen campaign, noting that, "…hundreds of thousands of African patients — from mothers in delivery to children with pneumonia and adults with COVID — will gain access to this life-saving medical necessity, and be able to live where they otherwise would not." 
You can help save the lives of the most vulnerable.
As Dr. Fielder observed, "Right now, there is a lot of talk about how COVID is exposing gaps in Africa's health systems. Afterwards, will the same interest exist? Will the political will and resources be found to tackle the hard, chronic problems? If the West African Ebola epidemic is any guide, it's doubtful." 
What Jon and I do know is that AMH will be here, doing its part. We will remain committed to responses that extend beyond the "current crisis," to create health systems and structures that last and help to prepare for the next. 
We envision an Africa where kids are able to get their brain tumors removed, the severely premature baby survives, COVID and pneumonia patients fully recover, the lame walk, and the blind see. We hope that you catch that same vision.