Dr. Bill Rhodes and his wife, Laura, are on a mission 25 years in the making. Together, they seek to alleviate suffering in areas with limited medical access. This is their story.
One moment is all it takes
One chance encounter can shift the entire trajectory of life as we know it. For AMH Gerson L'Chaim Prize winner Dr. Bill Rhodes and his wife, Laura, that's precisely what happened 25 years ago on a dusty street in Jerusalem.
They were living in Israel for Bill's master's program in biblical Hebrew. While driving through town one day, they picked up a hitchhiker who was a first-year medical student from the United Kingdom. As they inquired about his training and time in Jerusalem, one simple reply transformed their hearts forever.
"I just want to see if I can alleviate suffering in some small corner of the world someday in the name of Jesus," the medical student shared.
One sentence—one encounter was all it took to shift the trajectory of Bill and Laura's future.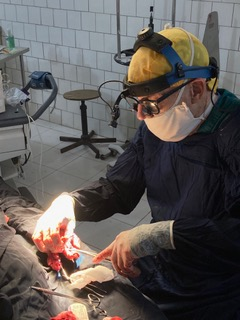 A new mission to alleviate suffering
As Christians, Bill and Laura knew this was a calling on their lives. For the next 17 years, they did everything in their power to follow through on their new life mission: to "alleviate suffering" in some "small corner" of the world.
They returned to the United States, where Bill began medical school. He trained for years to become a plastic surgeon. Long days and longer nights of training, sacrificing family time and temporary desires. But the feeling of exhaustion did not slow their mission.
Twenty-five years ago, the Rhodes family packed up their belongings and said goodbye to a potentially-lucrative plastic surgery practice in Los Angeles. They journeyed to Kapsowar Hospital in Marakwet County, Kenya, where they raised their family and lived out their life mission—a mission placed on their hearts in the streets of Jerusalem.
Kapsowar Hospital and beyond
Bill and Laura have invested in people, the hospital, and the region for a quarter of a century. Kapsowar Hospital has grown from a small regional care center to a professionally-staffed, high-volume training facility. They both play a vital role at Kapsowar.
Laura organizes Bill's schedule, prepares reports, and assists as his surgical "scrub tech" when they perform surgical camps. Together, they are a dynamic force for good.
"We are bonded in this," Bill shares.
Today, the couple is expanding on the idea of serving more people in a greater area. To them, it is simply a matter of going where there is the most suffering and the least alleviation.
Bill and Laura spend most of their time in remote places outside Kapsowar to serve in areas without clinics or healthcare facilities. They refer to such areas as "medical deserts."
The Rhodeses frequently travel to Chad, where living conditions are getting worse. They also provide care in higher-risk areas. It's a matter of serving anyone they can reach. Their outreach to underserved communities provides hope for those who cannot travel to a hospital like Kapsowar.
"There's nothing we would rather do," Laura says, describing their work. "We can bring a little bit of hope, a little bit of healing and encouragement in areas where all of those things are lacking."
Exponential impact throughout Africa
Despite their selfless work, Bill and Laura are just two people. They often wonder, "What if there were two more people, and two more after that, and two more, and even more people who could go out and do what we do?"
That idea of exponential impact is what won them the AMH Gerson L'Chaim Prize in 2021. The Rhodeses partner with community members in remote areas and provide training at Kapsowar Hospital. By pouring into students, they can go out and provide care in "medical deserts."
They desire to recruit, train, deploy, and retain African healthcare professionals long-term. With quality surgical teams who understand the current landscape, they can serve within some of the most underserved and hard-to-reach places.
Kapsowar Hospital's training program
Even as a top-notch healthcare facility, Kapsowar Hospital still suffers many of the same issues experienced by smaller hospitals in rural areas. But that's one of the main reasons Bill and Laura decided it was the perfect place to start a surgical training center.
"There's still obviously a huge disparity [in Kenya]," Bill says. "But compared to what we see in other places, it's all relative. There's bad, and then there's worse [in terms of healthcare access]. And we decided maybe you can use a place like Kapsowar to offer hope and help to other places … by bringing people in from there to train here. That's our intention. That's our vision."
Training involves not only medical knowledge but requires awareness and the ability to cope with the realities of life in these medical deserts. At Kapsowar, students will receive training at a functional, fully-operational facility while experiencing some of life's challenges in remote Africa.
The goal is for trainees with specific skill sets to return to their native regions as part of a four-member surgical team. The students, the training, and the support are like three small streams that converge to form a mighty river. A river of quality, compassionate medical care continues to grow with each new team.