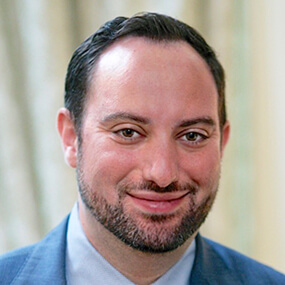 Aaron Greenblatt, Founder and CEO/Chairman of Flipt LLC, an "uber-like" Pharmacy Benefit Manager (PBM) alternative. Flipt provides employers 30-40% savings on their Pharmacy Benefit spend while aligning the plans sponsors, plan members, retailers and pharmaceutical companies to deliver the right medicine at the right price while empowering the most convenient and patient-friendly experience.
Aaron Greenblatt, Chief Executive Officer of G&W Laboratories, is the fourth-generation CEO from the Greenblatt family. Aaron directs his passions of entrepreneurship, strategic business partnerships, organizational development, and enhancement of organizational culture towards the continuous growth and evolution of G&W Laboratories. He is focused on deepening customer relationships and ensuring that G&W attracts and retains employees and strategic corporate partners who are aligned with the company's purpose of helping people realize their potential.
Since joining G&W Laboratories in 2009, Aaron has held various roles and has been instrumental in growing the G&W legacy working closely with his father, Ronald Greenblatt, who is the former CEO and now Chairman, and other members of the company's strategic leadership team. Aaron previously served as Director of Supply Chain; Director of Packaging; Director of Business Development and Sales, and most recently, served as the company's Chief Commercial Officer (CCO).
Aaron's focus on developing and executing the company's growth strategy has been transformational for this nearly century-old company. As the CCO, Aaron was the architect and chief negotiator of G&W's first acquisition of a North Carolina-based manufacturing facility from Actavis, Plc. on June 2014, and of the company's second acquisition of a Sellersville, Pennsylvania-based Teva Pharmaceutical's facility in April 2015 tripling the company's manufacturing footprint and employee population in a ten-month period. These acquisitions have provided new growth opportunities enabling the company's entrance into new markets, while expanding the company's reach, geographically and with greater employee population and more diverse product portfolio.
Aaron continues to focus on instilling the core values into the company culture, talent-recruitment and development, commercial partnerships, and new product acquisitions, in order to further increase the company's growth trajectory, and continue to build a sustainable organization.
Aaron completed his undergraduate studies at the University of Maryland College Park and earned his Doctor of Pharmacy (PharmD) degree from the University of Maryland's School of Pharmacy.