By Scott Marcello, President, African Mission Healthcare and Perry A. Jansen, MD, MPH
In April we began a series highlighting how our mission hospital partners are responding to COVID-19. The first two articles featured AMH's long-standing relationships with AIC Kijabe and Maua Methodist Hospitals (click here if you'd like to read about Kijabe or Maua).
Many African countries are still at the front of the pandemic wave. The full impact of COVID in Africa remains unknown but, as predicted, cases are beginning to accelerate. Dr. Loice Achieng from the University of Nairobi predicts that with effective mitigation, cases in Kenya will peak in early 2021. In short, there is still much to be concerned about for our African brothers and sisters.
Partners in Hope Hospital: Providing Hope and Light in a Challenging Environment
AMH has consistently supported PIH, providing a broad range of important infrastructure from boreholes to our first ever surgical theatre (operating room) and equipment in 2019. With AMH's help, we can see ourselves moving towards fulfilling our vision. Behind every progress, there is a sincere partner." Thank you AMH.
 – Dr. Agnes Moses, Partners in Hope Hospital Executive Director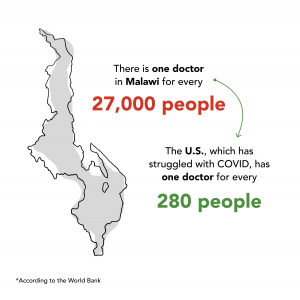 Partners in Hope (PIH) is located in Malawi's capital city, Lilongwe. Malawi is the third poorest country in the world, with a gross domestic product (GDP) of $390 per person and, like many countries in Africa, has a major shortage in qualified health workers. Most people living in Malawi are surviving day-to-day and have little to no access to quality, compassionate healthcare. Even the minibus trip to the hospital can consume a day's wages.  The Hospital was founded in 2004 by AMH's Vice President for Strategic Health Partnerships, Dr. Perry Jansen, in response to another pandemic, HIV/AIDS. Working closely with the Ministry of Health, PIH became a trusted specialty center for HIV care and diagnostics.  
AMH Co-Founder and Chief Executive Dr. Jon Fielder joined Dr. Jansen and PIH in 2009, helping to expand both an in-patient facility and a community-based treatment support program for HIV patients. These expanded programs allowed PIH to care for some of the sickest patients in the city. It was during his time at PIH that Dr. Fielder also co-founded AMH with Mark Gerson. Their vision was to strengthen mission hospitals like PIH, and the broader African health systems, in order to provide the poor and disenfranchised with access to quality, compassionate care.  An example of these efforts in action is AMH's support in supplying Partners in Hope with medicines, which are in short supply in Malawi.  On one occasion, a shipment of medicines including blood thinners arrived just before a patient presented with a blood clot in her arm.  The medicine saved both her arm and her life.
One of AMH's earliest investments included laboratory infrastructure for critical HIV and tuberculosis diagnostic testing at PIH. The PIH laboratory, under the leadership of its manager, Chifundo Chipungo, was among the first in Malawi to use PCR (polymerase chain reaction) technology, allowing the hospital to detect tuberculosis more rapidly. In Malawi and many other parts of Africa, tuberculosis remains a major killer. PIH later became a national HIV viral load testing center, providing treatment monitoring for a large part of the country. 
These advancements in HIV care and the hospital's laboratory are examples of a mission hospital, with support from AMH and generous individuals like you, having a lasting impact on the region's health systems. In addition to serving as a center for HIV/AIDS treatment, PIH has partnered with the University of California, Los Angeles (UCLA) to implement a nationwide program to strengthen HIV services in over 100 hospitals throughout the country. 
PIH is now led by Dr. Agnes Moses, a compassionate and competent Malawian physician, and a team of talented and committed leaders and providers. The gifts of our generous supporters have made many keys projects possible at PIH: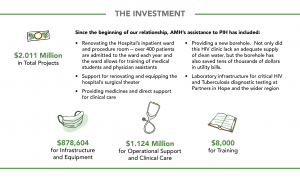 These and other investments have made PIH much stronger than it was before, providing quality, compassionate care to the surrounding community. The hospital has expanded its range of services and is positioned to have a lasting impact in Malawi as a new surgical center. Dr. Moses aspires to make PIH into a training center for internal medicine physicians.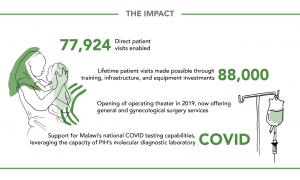 The unique collaboration between AMH, PIH, the Malawi Ministry of Health, and the US President's Emergency Plan for AIDS Relief is a model for combining local efforts, private philanthropy, and US foreign assistance in a way that is focused on local priorities and builds sustained local capacity. These efforts are proving to be valuable in the early COVID-19 response, providing much-needed PPE and technical assistance.  The PIH molecular diagnostics lab will become part of the national infrastructure for rolling out COVID-19 testing as PIH supports the Malawi Ministry of Health in responding to the pandemic.
But Will It Be Enough?
We have raised this same question during each of our updates. While much has been accomplished after a decade of hard work and investment, what will happen when the pandemic expands and accelerates through the region? What happens if a significant number of scarce health workers are infected? As cases are beginning to increase, we continue to heed public health experts warning of a prolonged threat to Africa from the coronavirus.
The COVID epidemic has already severely reduced hospital cash flows. Hospitals that traditionally serve the poor and disadvantaged must invest in preparations. At the same time, they have lost revenues as non-emergency operations are suspended and patients avoid hospitals from fear of COVID. Additionally, the country's limited number of health workers and properly equipped institutions are inadequate to face the full force of COVID.
We are committed to helping PIH and our other hospital partners to survive the current crisis and be prepared for the next. With your help, our support will include providing PPE, Oxygen, and other near-term support to respond to COVID. We are also planning other projects, including the expansion of our surgical sponsorship program (SAFE) to provide access to quality surgery for those patients at PIH who are unable to afford it. This will increase the usage of PIH's newly equipped (with assistance from AMH) surgical theater and also provide critically needed operating cash flows. 
What Can You Do?
Support our

AMH COVID Response Fund.

Your gift will help missionary doctors and mission hospitals battle COVID, save lives, and to recover after the pandemic subsides. 

Join us in lifting Africa, its leaders, its health workers, and its people up in prayer. 

Continue your ongoing support for AMH's critical programs. We are investing in the long-term future of Africa by building quality medical institutions and training health workers. Your support for SAFE, increasing surgical capacity, training new health workers and other similar efforts will save lives today AND prepare the continent for whatever crisis is next. 
Thank you for your faithful support and continued prayers for our hospital teams and their patients during this time. We are grateful to partner with you.